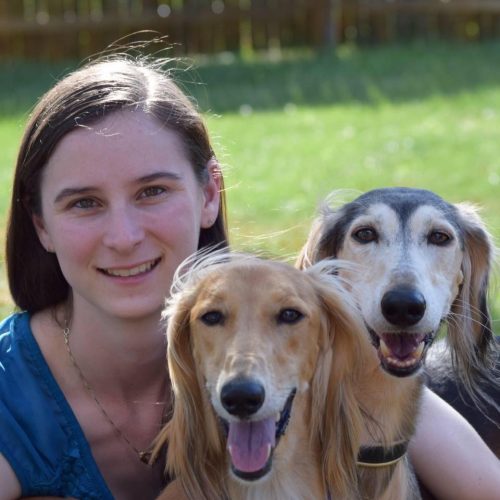 I have been involved with Salukis since 2003 when my parents purchased my first Saluki, Skye, bred by Lorraine Trenholm. She went on to officially become BIF FC Rataki Untha Trinjen SC RN CGC FCh. Skye was my introduction to lure coursing and the AKC show ring through my 4-H program.
Previously, I have referred to my kennel as "Skye Salukis", but I recently added the word Desert to that. My new full Kennel name is "Desertskye Salukis", which includes a tribute to my foundation dog, "Hela" and my first Saluki, Skye. Hela's registered name is Tamarisk Cemal Desert Cerenade and she is also a 3rd generation Desert Bred descendent.
Hela, was gifted to me, by my very good friend and mentor, Joanne Klova of Tamarisk Salukis. We both co-own her and she has been an amazing family member, competitor and mother.
My first litter was co-bred with Tamarisk Salukis in 2016 and the 2nd litter co-bred with Kismet Salukis in 2018. Hela is the dam of both of these litters.
I am a member of the Saluki Club of America, American Saluki Association, Saluki Association of New England, and Liberty Saluki Club. I was honored to be awarded the 2019 AKC Sportsman of the Year by the Saluki Club of America.
My dogs are all members of the family and live in the house. They are competitive in the AKC show ring and lure coursing and I occasionally participate in obedience and rally. I do consider myself to be a preservation breeder. My vision is to keep the original look of the breed and honor their very old history. A saluki is like a living piece of ancient art. I do not breed often, and only very carefully planned and health tested parents are selected. Please contact me for more information on upcoming plans or referrals to other preservation breeders!